The face mask face-off: it's time to pick a side.
Reading Time:
5
minutes
So the end of the pandemic is somewhere over the horizon, but with cases rising the next Great British debate to divide the nation looms large this week: To mask or not to mask?
July 19th, dubbed 'Freedom Day', has arrived and Prime Minister Boris Johnson has decreed new face mask guidance that from that date continuing to wear a face mask will cease to be mandatory and become a matter of 'personal responsibility' for the general public. But where does the hospitality industry stand on the matter?
We understand the desire of "Back-to-normal" freedom fighters who are ready to eschew their masks (if they haven't done so already) and have taken to social media to lambast the brainwashed 'sheeple' who priggishly continue to wear a face mask for the 'good of the many'. The former will be viewed by the latter as selfish and uncouth in their refusal to protect their community by letting the mask slip. But unlike other political issues and our ability to enter the veiled Ballot box to take a stance in confidence – our position on the topic of masks will be worn across our faces.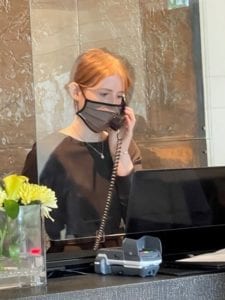 Fashionizer face masks at The Europe Hotel, Killarney Ireland 
Scientifically speaking, there is no doubt that face masks do offer protection, but how your facemask protects you and whether it's worth the steamed-up specs and pressure ulcers is up for debate, making the face mask debate a divisive one as we try to "return to normal". It seems that the longed-for vaccines are helping, however not all Britons have had their first of the required two jabs and an Israeli study recently revealed that two doses of the Pfizer vaccine is only 64 percent effective in protecting against the Delta variant. Which is why the Israeli government has re-imposed mandatory mask wearing indoors after cases doubled week on week after restrictions lifted on June 1st. Elsewhere, including California, USA and Seoul, South Korea, decisions to relax mask rules have reversed after a spike in (and in a bid to prevent) Covid-19 cases to avoid further lockdowns. For those working in and for the hospitality industry, whose very livelihood has been under threat since March 2020 , the pandemic and subsequent lockdowns have taken their toll on even the most resilient of operators.
Aside from restricting communication, masks are uncomfortable and inconvenient. Being required to wear a mask for a little while longer, as part of work attire, may well dampen the enthusiasm of hospitality staff in front-of-house roles when it comes to getting back to work. A year ago, we were debating the efficacy of cloth face coverings  and whether  our own ideas for fabric face masks offered a good level of protection.Worn both to protect the wearer and those around them from the virus, analysis showed that either disposable surgical masks or reusable cotton masks were associated with protection of healthy individuals. For our experts at Fashionizer, as well as single use face masks' impact on the environment, the conversation largely revolved around research into which construction and reusable materials would be best and how much protection a well-made fabric mask could offer.
Fashionizer face masks at The Europe Hotel, Killarney Ireland
We have been developing bespoke fabrics for 26 years and we used this experience alongside cutting-edge scientific research into the virus to design our masks. Our reusable face masks which are made of high-quality fabric, are guaranteed for a minimum of 40 washes and were subject to testing by Nelson Labs in Salt Lake City, USA, a leading global provider of laboratory testing and expert advisory services for MedTech and pharmaceutical companies. The results indicate that our masks are 77% effective, which is at the top end for fabric face masks performance (surgical masks start at 70%, and N95 masks offering 95% – 99% protection). Find more information here.
They consist of three layers of fabric, one being a non-woven layer of interlining for filtration. Fabric is either 100% cotton, or Fashionizer Spa's organic CPF (Cotton Performance Fabric), an exclusive fabric normally used to keep therapists cool and fresh in warm spa environments. The masks have a lightweight metal wire at the top of the mask, making it easy to fit around and shape the nose, with lightweight elastic ensuring minimal pressure around the ears (you can expect 5% shrinkage after the first wash).
A year on we believe that it is still important to follow strict hygiene procedures and continue to wear a face mask in all enclosed environments. You should also remember to clean your hands before putting and taking it off your mask. Please also ensure that it does not come in contact with any surfaces before it is washed with soap and agitation at 60°C. Masks should only be used by one person and should not be shared.
You can order our Wellness Face Masks here. Prices have been slashed to just £6 per mask. For larger orders over 50 masks, please send an email to customerservice@fashionizer.com
If you have any questions or comments regarding this topic, please do not hesitate to reach out – we're here to help. To all of our friends and clients in the hospitality and wellness industry as we look forward to a brighter post-pandemic future. Remember to stay safe!
The Fashionizer Team
Comments: 0