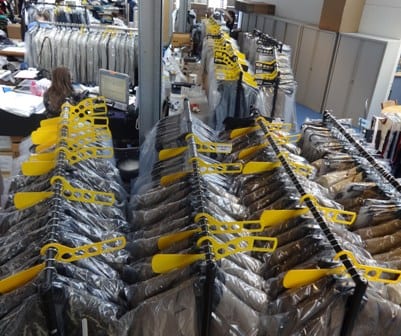 Ready, steady, go! 6,000 uniforms head for Dubai
Reading Time:
2
minutes
Here's what the Fashionizer office looks like this week: there are at least three people (possibly four – can't tell as they're moving around so fast) brandishing industrial-sized sticky packing tape. A couple of others are on sewing machines, someone else is pondering a complicated-looking spreadsheet and ticking things off. There are more boxes than you have ever seen in your life.
And there are around 3,000 uniforms on hanging rails.
This is one of the most exciting parts of what we do: it's when we take delivery of all the uniforms from the manufacturers, check them off, and send them out to the client; it's when the designs become a reality and the scale of the project is apparent.
The client in this case is Four Seasons Resort Dubai at Jumeirah Beach, which opens on the 1st of December this year. We have designed a full range of bespoke uniforms, from front of house, to restaurant, bars, retail, spa, housekeeping…
According to our fittings manager (who, frankly, you wouldn't want to mess with) there are more than 500 staff to be fitted and issued with uniforms, around 80 different garment styles and 20 different staff 'looks'. That's a lot of uniforms that need to go into a lot of perfectly packed and labelled boxes so that they can be easily accessed for fittings once they arrive in Dubai.
A new opening presents its own challenges, including the fact that we have to manufacture uniforms for staff that haven't yet been recruited. How does that work? Well, for this we have a Secret Weapon: our MD Debbie has been doing this for about 100 years, and uses our experience and statistics from previous projects. She also consulted the hotel to discover where they are recruiting from, as this has an impact on sizes of uniforms. In Dubai this is complex as the staff come from across the globe, from the Philippines and Pakistan which has people of the shortest average height in the world, and Europe where people are some of the tallest.
It's taken 10 months and the same number of us to get to this stage, but that's not the end of the story. In the middle of September a crack team of Fashionizer fitters will be heading out to Dubai to take the uniform programme to its next phase. More about that in September…
Comments: 0