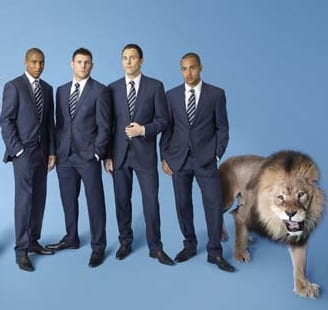 England Score a Winner with World Cup Suits
Reading Time:
2
minutes
You've got to feel sorry for some of the England boys – and by that we mean the unlucky ones who found out last week that they won't be going on that plane to Brazil.
Not only have they had the disappointment of being dropped from the World Cup squad, but they also won't get to wear their specially designed team suit. It must be pretty galling for the likes of Ashley Cole and Michael Carrick who bothered to turn up at the photoshoot to launch the suit in the full expectation that they might next be seen wearing it in Rio de Janeiro.
The football powers that be decided to use high street store Marks and Spencer to design the official suit that the players wear when they appear in any official World Cup capacity. It's a sign-of-the times decision, with the Football Association clearly feeling that a more accessible approach was appropriate. Like any kit (or indeed uniform) the official suit is a statement.
We rather like it: it has a sharp look to it, and the charcoal grey is classy and complements the ties that bear the country's colours. The England Three Lions badge is also subtly done (in the past the badge has made it look a bit like a school blazer, which is not a look most footballers would want to achieve).
It's the second time the M&S have designed the official England threads, so it's clearly a relationship that works for them. The suit is definitely a successful update of the 2010 look, although this time, rather disappointingly, the World's Most Famous Model and Best Clotheshorse Ever (that's David Beckham to you and me) won't be strutting his stuff in it.
Elsewhere in World Cup land, Italy have gone for Dolce and Gabbana, while the French appear to have, rather confusingly a dinner suit.
We enjoyed our look at the uniforms at the Winter Olympics this year, so we'll be heading to Rio (not literally, sadly) to have a look at the triumphs and disasters of the teams' tailoring decisions on and off the pitch.Watch this space.
In the meantime, check out the official suit video here.
Comments: 0