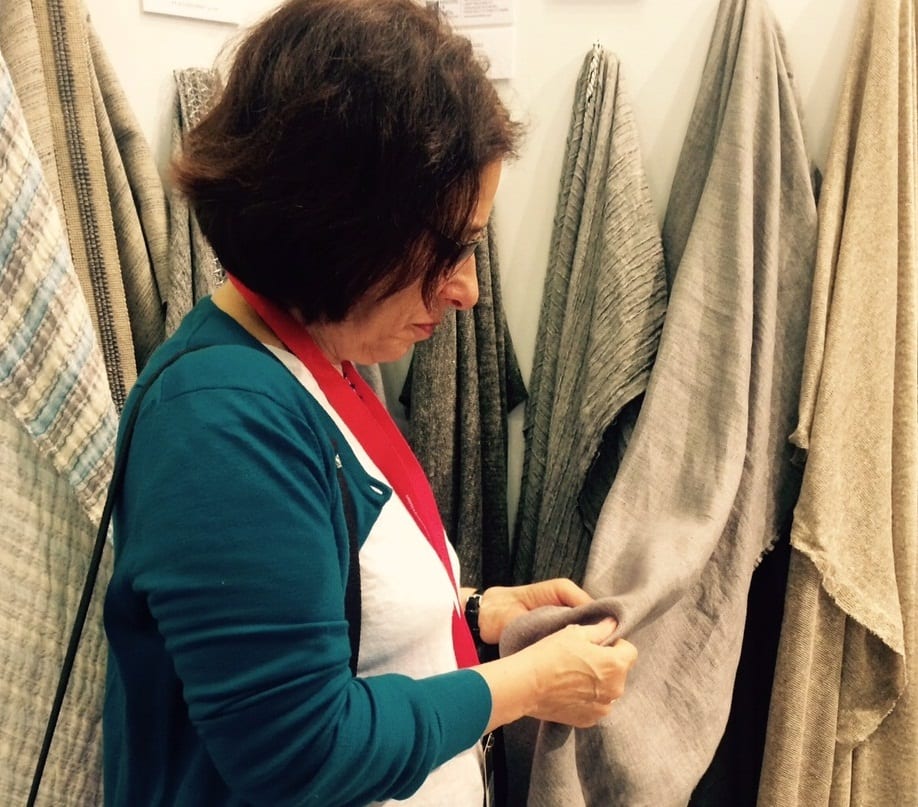 September 23, 2015
In
Blog
Premiere Vision vs London Fashion Week
Reading Time:
3
minutes
At this time of the year there is a decision to be made – London or Paris? Whilst most fashion designers would be fixed on London Fashion Week, for Fashionizer there was a more future-focused choice. Always with the next step in mind, our team headed for Paris to The Premiere Vision fair, where new fabrics, fibres and textile manufacture are showcased.
It is an inexplicable annual clash of calendars for exhibitors. London Fashion Week has the buzz of the 'here and now', but PV Paris looks ahead to next year, unveiling the fabrics that will appear on next year's catwalks.
Our MD Debbie (pictured on the right) and Product Development Manager Richard were in Paris pursuing velvets and silks for one of our clients who is looking for a rich, opulent, high fashion look. Velvet is undergoing something of a revival, as testified by the exhibitors at PV, and its renaissance is unbound by traditional perceptions: there are light, soft, stretchy velvets sitting alongside substantial, prosperous astrakhans and tonal prints. Our designers are full of ideas on how to use these to best effect.
There's nothing that says luxury more than silk. For clients, choosing silk for uniforms represents a real commitment to a five-star image – and it's an investment. The statement that silks and velvets make has to be offset against the practicalities; specifically there is always the challenge of care, not least the special laundry requirements and the cost of replenishment due to a shorter lifespan.
We were interested to see that 'elasti-chic' was a theme running through the fabrics on offer at PV, with flexibility in wool blends and cottons. We have been on this particular case for a number of years now, with our own elasti-chic CPF fabric that we use in spa uniforms for men and women.  There are signs that more menswear fabrics are embracing the idea of a subtle stretch, too, so watch this space.
A couple of years ago, PV branched out into shoes and accessories, which dovetails happily with Fashionizer's recent move into providing shoes as part of the complete uniform package. Choosing the perfect shoe requires that skill we love most – attention to detail, from the construction of the shoe to the quality and provenance of the leather and the manufacturing techniques.
But the Premiere Vision show wasn't all work and no play (we clocked up 15,000 steps a day on the Fitbit!) It gave us the opportunity to catch up with many of our suppliers over a glass of good wine and some delicious food. Well, we were in Paris, after all…
Comments: 0