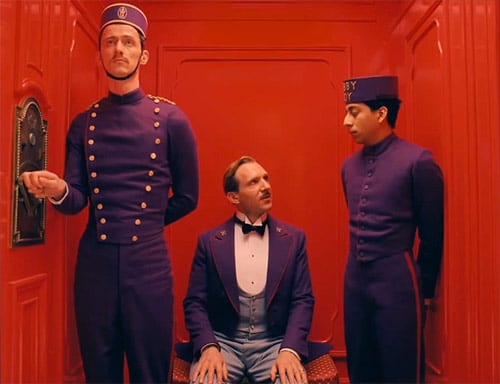 The key to a successful hotel uniform
Reading Time:
2
minutes
We wouldn't normally fancy ourselves as film critics, but when a movie opens that celebrates the art of hotel uniform design, we can't possibly ignore it.
Pretty much every character in Wes Anderson's The Grand Budapest Hotel has a uniform, whether that's the staff of the eponymous hotel, the confectionary makers, the kitchen staff or the militia, and of course we cast a professional eye over the lot of them.
We loved the simple, classic idea of the concierge uniforms – and we noticed that the same design featured across all the hotels, but in different and somewhat unconventional colours. So whilst the Grand Budapest favoured a rich purple, its counterparts in other companies chose bright red or racing green, but in an identical style. It shows that clever use of colour within a good strong uniform design can create an individual look.
We also loved the attention to detail – from the satin ribbon detail on the rim of the lobby boy's hat to the red piping accents and the embroidered emblem on the lapels of all the top-dog concierges who were members of the international and exclusive Society of the Cross Keys. The inspiration for this club of high-achieving concierges was The Society of the Golden Keys, the members of which wear the golden key symbol.
Whenever we work with hotel clients, one of our main commitments is to create uniforms that will last. Whoever bought the uniforms for the Grand Budapest must have been listening to us: Zero the lobby boy not only fulfilled the full range of his professional duties, but also managed to assist in the bakery, climb on a roof and travel cross-country all while wearing his uniform. He even got married in it. That's durability for you.
To see the uniforms in action, check out this trailer
Comments: 1