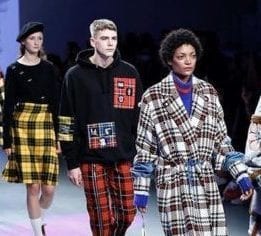 September 27, 2018
In
Blog
LONDON FASHION WEEK SEPTEMBER 2018
Reading Time:
3
minutes
With London Fashion Week on everybody's mind, our interns here at Fashionizer were more than eager to jump on this inspirational opportunity to go and view it for themselves. This year's  Fashion Week was an explosion of creative innovation amongst designers, the British Fashion Council showcased over 200 designers over the course of five days. Even though our interns did not get to see every catwalk, they reported back on several trends that stuck out.
Retro vintage took a futuristic twist for many designers as they used bright colours, soft pastels, 80's inspired silhouettes, and daring motifs.
Bold stripes, animal prints, coloured checks, and abstract prints were just some of the trending patterns that were exemplified throughout the collections.
Reoccurring design techniques such as asymmetry, fabric layering, ruching and pleating, were used in a variety of combinations to create collections that were jaw-dropping, which inspired lots of technical questions to our pattern cutter in the office.
As for fabrics, tulle, metallics, knits, mesh, and sequins were combined in unique ways. Even the more minimalistic designers still used these techniques in their own unique, subtle ways.
Even though at Fashionizer to date, we have not designed any red leopard print sequined jackets for any of our clients, we have recently designed custom striped shirts in bright yellow, checked coats, Jackets, waistcoats and trousers and even metallic daisy-printed suit jackets, so it seems that even uniforms can be on trend.
One of the trending hashtags at this year's London Fashion Week was #PositiveFashion, and to the team at Fashionizer this has a broader meaning. As a part of the BFC'S Positive Fashion initiative, they promote sustainable practice among the industry and encourage future businesses and designers to create a further positive change when it comes to the process of designing their clothes.
Positive Fashion is led by three strategic pillars: Sustainability, Equality & Diversity. As a part of this movement, no animal fur was used in the collections showcased at September London Fashion week 2018 – and this is becoming a trending action at other fashion weeks across the world. Burberry has also ceased the destruction of unsaleable goods, proving the brand's commitment to help stop the build-up of excess textile waste
All these principles are part of the ethics at Fashionizer. Our organic cotton performance fabric is sustainable and eco-friendly as it is grown without pesticides, while we also have our PET fabric that is crafted into fine yarns from 100% recycled plastic bottles and all our manufacturing is done in vetted factories in Europe where working conditions are approved EU standards. Our interns' message for the future: If each company in the fashion industry takes these initiatives of positive work ethics, we are looking at advancing society's practices, bettering our world, and most importantly, saving our planet that we call home.
FOLLOW OUR BLOG
Comments: 0