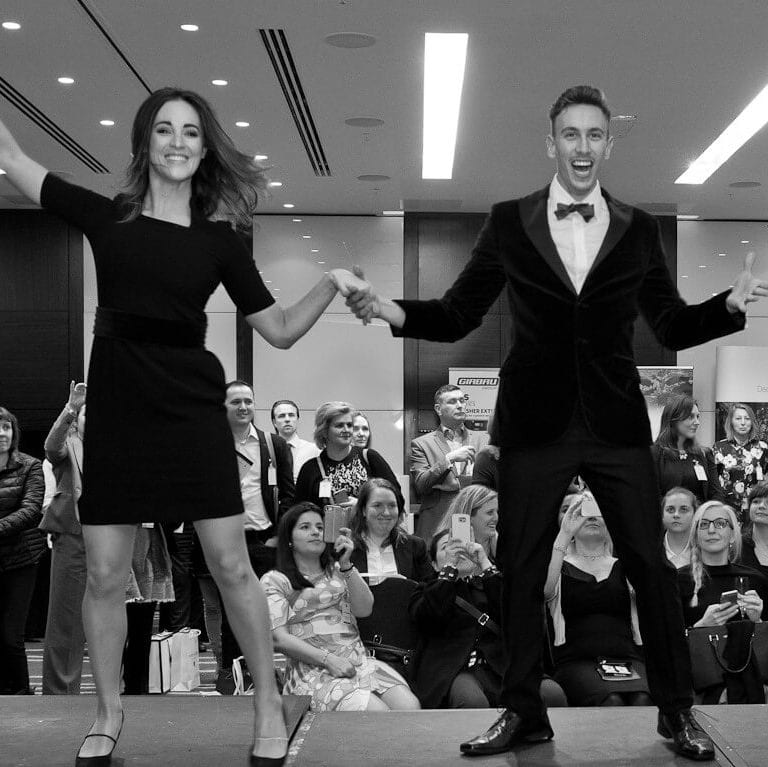 Time to invest in UK fashion?
Reading Time:
3
minutes
Autumn's approaching, and for those of us in the fashion and textile businesses, that heralds the end of 'fashion season'. It's a time of the year when we can check in with an industry that is an important part of British business worldwide – one that we have a stake in.
This year our fashion season saw us attending Premiere Vision in Paris, the fabric-fest that enables us to source new materials and textile trends.
In a scheduling clash we always complain about, we also have one simultaneous eye on London Fashion Week and the chance to gather a little inspirational stardust from the industry's top designers. We are no stranger to the catwalk ourselves, not least at Shared Knowledge Day at the UK Housekeepers Association – as our picture shows, but as fabrics and trims are the heart of our business, then PV is the place to be.
It has been 25 years since we first attended PV, and – here's a thing – it's about half the size it was all those years ago. It's not a surprise: we've seen how much the textile industry in Europe has faded in the past quarter-century.
UK fashion, on the other hand, passes with a clean bill of health:
The UK Fashion industry is worth around £66bn
It exports £9bn worth of products
The fashion industry contributes £28bn to GDP – more than car manufacturing!
Fashion supports around 880,000 jobs in the UK
So far so good, but good business is not just concerned with the here-and-now, it's also about looking after the future.
Christopher Bailey, Creative Director of Burberry, a business that trades on its Britishness, sees some reasons to be cheerful. Speaking on the BBC during LFW, he says Brexit is an opportunity to re-communicate the uniqueness of British fashion design to the global market and provides a chance to bring more manufacturing back into the UK.
On one level we get it. British style is an identifiable and desirable quantity: many of our previous clients have wanted to capture a sense of it: St Pancras Renaissance and the InterContinental Westminster, both in London, to name but two.
Whilst we applaud the optimism, where does British manufacturing fit into this brave new world? The UK fashion industry is made up of thousands of companies, many of which are small businesses – unlike Burberry and car manufacturers. UK garment factories, similarly, generally operate on a smaller scale. That's fine for upmarket, high margin businesses,  but it means those factories are no longer significant players in the game when it comes to matching what other EU counties can offer.
It's hard to see where that growth in UK manufacturing is going to come from. Burberry themselves have announced that they are halting investment in their Yorkshire factory, due to the uncertainty over Brexit. And if they, with their 150 years of championing all things Brit, are not investing in the UK infrastructure, who will?
The answer may be a conscious commitment to invest in British garment manufacturing. At the front of this is the need to bring in the technology that exists in other countries. For our industry that means new, computerised machinery that can help give suppliers better margins whilst incorporating the UK's higher pay rates and overheads.
We're hoping that the value of the fashion business will have some sway when decisions are being made about the UK's future – not least that impressive £6bn of exports (some of that is Fashionizer, we are proud to say). We are holding our breath.
Comments: 0