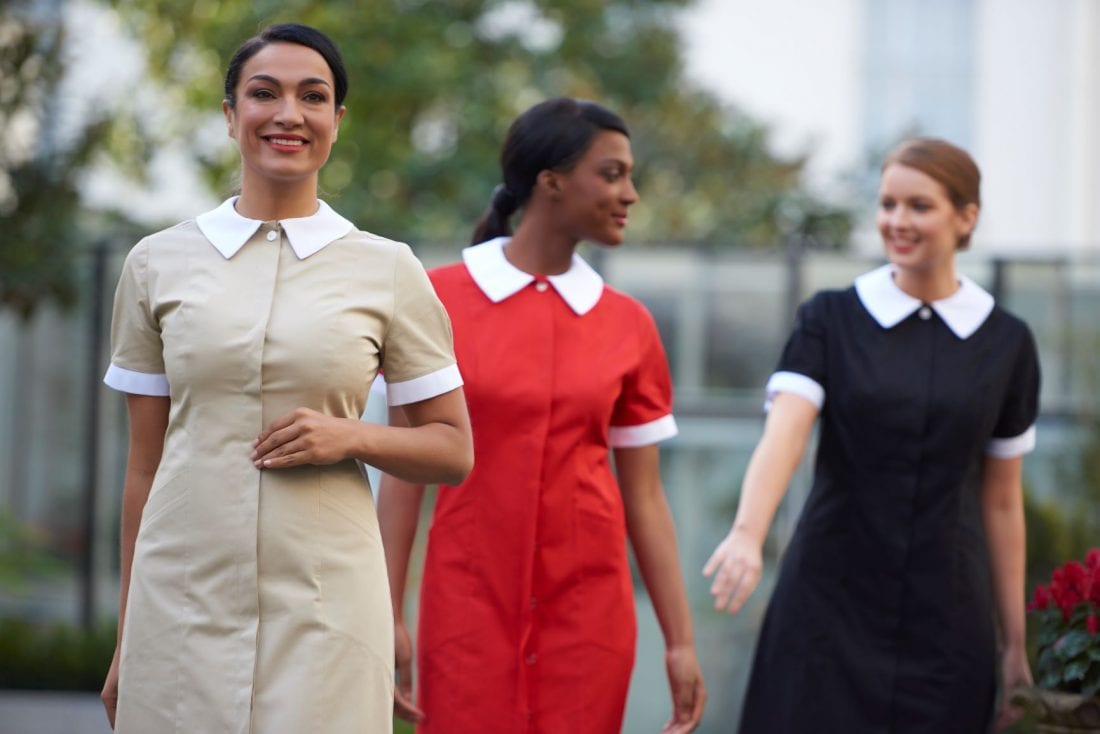 September 26, 2018
In
Blog
Our Digital Journey; Destination our new 'Hotel Uniform Shop
Reading Time:
3
minutes
A labour of love since its conception 12 months ago we are now ready to unveil our new Hotel Uniform Shop. Developing a new website has been a learning curve for the Fashionizer team and our digital journey has been filled with bumps, humps and lumps, including AWOL web developers and the limitations of an ecommerce platform. Being a creative bunch our marketing team, led by chief investigator Dorota, our marketing manager consulted the famous Mr Google and by researching and investigating have become quite the experts.
As you know, Fashionizer is known for its couture uniforms lovingly designed and crafted to our client's unique requirements. But with the lead times and minimum order quantities associated with bespoke tailoring we knew we needed to devise a solution that could cater for businesses that are looking for high quality uniforms quickly and in lower quantities. As a result, we have created a website that provides a streamlined customer journey offering the client the opportunity to receive ready to wear uniforms within 48 hours. The fully responsive site provides a seamless transition from desktop to mobile and a smooth and intuitive shopping experience which allows users to access product quickly and easily via easy to navigate key hospitality product categories.
Hotel Uniform Shop is the new destination for all our staple housekeeping uniforms, and all the product featured on the site can also be made to order in a variety of other colours via our customisable service. We are however, super excited to unveil some new and novelty ready to wear hospitality garments and accessories that were once upon a time only accessible via bespoke orders. These include a beautiful doorman coat made from 100% Loden wool, and what we have dubbed as the crème de la crème of hospitality style our fashion forward stylish wrap housekeeping jumpsuit which is part of our innovative New Life collection that uses the environmentally friendly Newlife™ fabric made from 100% recycled plastic bottles. We took our style inspiration from Ascot on this one, if glam racegoers can showcase their fashion panache then why can't our room attendants? Rest assured, our Caprica housekeeping jumpsuit, like those permitted at Ascot is full length and there is no midriff in sight. And, if you haven't already seen we broadened our capabilities to knitwear, when we designed an exclusive cardigan for The Ned. As the feedback on this has been overwhelming we have added a classic black cardigan to our Finishing Touches collection which can also be made to order in other colours. Other accessories in this range include hats, belts, shoes and aprons which are the perfect companions for our uniforms.
New website features include an integrated Instagram feed, so our most recent posts can be viewed from the site and excitingly, you will soon be able to shop our Instagram when you see the shopping bag on the post.  Watch this space!
We are now busy revamping our Spa uniform sites to deliver the same customer experience. In the meantime, we would love to hear your thoughts on Hotel Uniform Shop so if you have any feedback, please let us know here.
FOLLOW OUR BLOG
Comments: 0