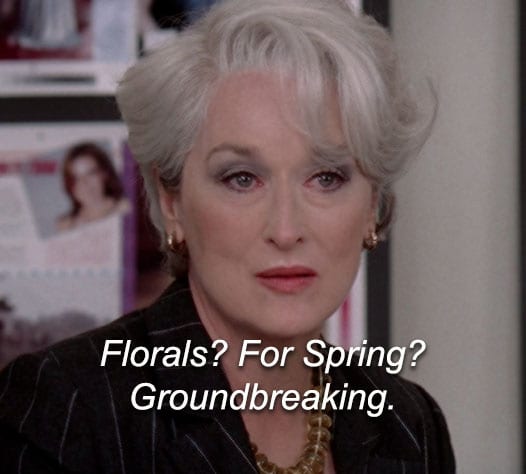 Prints and florals that ARE ground-breaking
Reading Time:
4
minutes
We all know that according to The Devil Wears Prada icon, Miranda Priestley, florals for spring are anything but "ground-breaking". Meryl Streep's ice-cold character's infamous line is sarcastically implying that florals in fashion are nothing new. From the runways of Dolce & Gabbana to the shop floors of Zara, we see various prints every season – so the question is, how do designers rethink and transform these ever-classic designs into something that is truly ground-breaking with every collection? As usual, the devil is in the details.
Rewinding time, textile printing is an ancient art that can be seen in fabrics dating as far back as the 4th and 5th Centuries B.C in Egypt, Greece, and India. It started with block printing, which required dye being pressed onto a fabric from a carved material, historically wood, and eventually to copper blocks and then rubber in the late 1700's. Fast forwarding to the 1980's, when the improvement in the printing technology developed rapidly with color inkjet printers started playing a huge role in digital fabrics for consumers. 
When it comes to fashion, fabric printing has been the result of the color separation of the designs with a print roller for each colour and price to match. In today's digitally advanced world, technology now allows for all designs, with various colour combinations, styles, prints, designs and so on, to be exported and printed digitally in one process. Designers can then create unique prints for each of their customers. 
When it comes to designing hotel uniforms, today's advancements in production technologies enable our design team to introduce the latest fashion print trends into our uniform collection (without major expense), while considering clients' environments and interiors. Here's how the team at Fashionizer replicated runway trends to uniforms:
COMING UP ROSES –

Inspired by rose prints shown on the catwalk by

Dolce & Gabbana

and the rose gardens of the

The Belmond Cadogan's secret gardens

in London, Fashionizer designed red rose print dresses for the front of house ladies at

The Cadogan Hotel

. Our design team visited the gardens to photograph the roses, which were then digitally replicated and turned into a printed fabric. Soon enough, the Belmond Cadogan had their own, special and unique fabric print. 
OFF TO THE TROPICS –

Imagine yourself in total paradise – to the

Laucala Island Resort

to be exact. The Fashionizer team was presented with beautiful hand-painted water colours of the local fauna and flora of the native land of Fiji, and digitally transformed them on to delicate silk and cotton fabric and crafted elegantly beautiful island-style sarongs from it. We saw one of the biggest fashion runway moments last year with J-Lo for the Milan Versace runway show in that

iconic green jungle print dress

that they redesigned to commemorate the dress she wore in 2000 that inspired Google Images. Like Versace, Laucala Island Resort can now boast their own exclusive tropical print.
When it comes to hospitality, a personalized print can truly form not only an identity for a hotel, but an energy that the guests feel too. And with the aid of new digital printing technologies, a bespoke printed fabric doesn't cost much more than a plain solid colour fabric. Thankfully, we're way past the stone age days of hand-dying fabric on wooden blocks, and with the help of advanced digital printing technologies, consumers and our clients can achieve almost any look they want – and the Fashionizer team goes the extra mile to make sure that that print is exactly what you want, something that will never go out of style, something that IS truly ground-breaking.
If you are interested in creating your own exclusive print design for your uniforms, please contact us.
Comments: 0