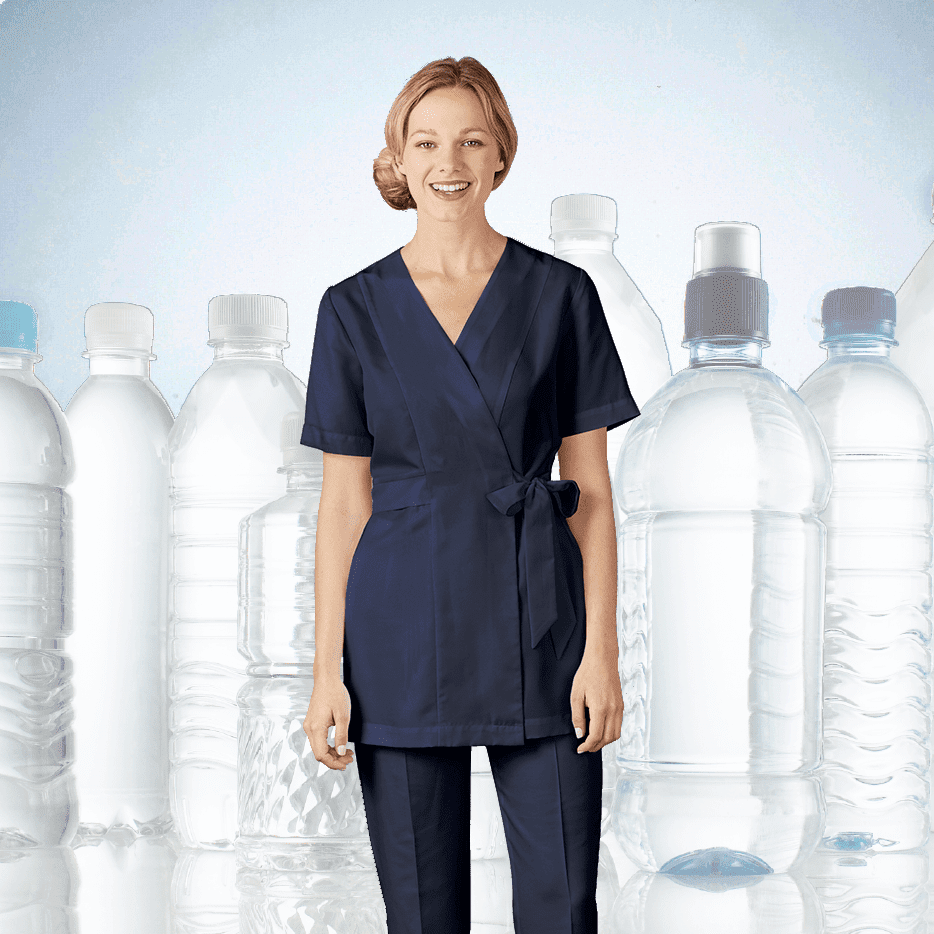 Saving the Planet: How Fabrics Can Make a Difference
Reading Time:
3
minutes
We're going to make a prediction here: 2018 will be the year where we all are going to think long and hard about plastic and sustainability. That means looking at the way we use it and how it is casually tossed aside to pollute land and oceans, and what we can do with it instead. We can't pretend we don't know about the perils of plastic – 17 million of us watched albatross parents desperately trying to feed their babies with bits of discarded plastic on Blue Planet ll. Plastic waste has just become more political, with last week's announcement of a 25-year plan to rid the country of 'avoidable plastic waste'.
But what's all that got to do with uniforms?
As part of our on-going product development programme, Fashionizer has explored the use of recycled fibres that use plastic waste. The result was that two years ago we added a new water-wise fabric to our spa uniform portfolio – made from 50% wood pulp (Tencel) and 50% recycled plastic bottles.
So far so good. But the full sustainability story is much more complex than simply sourcing different fabrics. It involves a number of processes and issues:
The making and dyeing of fabrics
The carbon footprint created in manufacturing and delivering garments
The shelf-life of clothes
He biodegradability of fabrics and clothes
According to the Ethical Fashion Forum, the UK alone throws away more than 1 million tonnes of fabric into landfill. Fashion, with its here-today-gone-tomorrow business dynamic, has to be a contributory factor.
The Cycle of Recycling
Recycling clothing – especially with the diverse range of fibres used –  isn't straightforward, but neither is it impossible. We all have taken a bag to the charity shop, but damaged and unsaleable items of clothing also have a future. Natural fabrics can be shredded and combined with other fibres to create, for example, upholstery. Synthetic fabrics can, technically, be broken down and a new synthetic fibre created, but this is an expensive process and one that potentially uses more energy than it saves. So it's down to investment in technology, and a commitment to developing new, more efficient ways of processing old or unwanted fabrics.
Millennials are already on it: The Youth Fashion Summit has a comprehensive set of demands that challenge the fashion industry to stop being the second most polluting in the world. Among those demands is a call to designers, brands and government to invest in recycling technology and infrastructure to create a joined-up 360-degree solution.
That has to start with individual commitments. In 2018, Fashionizer will be analysing our fabrics, their sustainability and looking at how they fit into the recycling landscape. Watch this blog…
FOLLOW OUR BLOG
Comments: 0