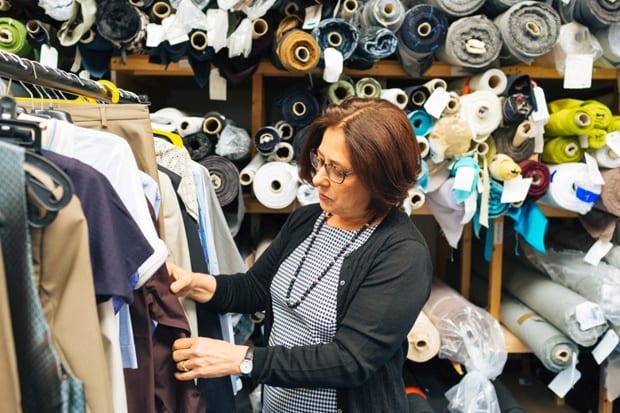 December 21, 2015
In
Blog
On the first day of Christmas…
Reading Time:
3
minutes
At this time of the year mags, newspapers, blogs and tweets are awash with '12 days of Christmas' lists. You know the sort of thing: variations on gold rings, partridges and pear trees, numbering products from 1-12. All good, but we at Fashionizer like to be the ones to add a dusting of creativity to everything we do, so here are some random numbers that sum up our 2015.
1 is for the first time Fashionizer has been featured in the business section of The Times (pictured).
2 is for stars! Specifically it's the number of Michelin stars earned by chef Hélène Darroze at the Connaught. Such an achievement merits a 5* uniform, and this week we fitted the staff in the restaurant and the hotel's Coburg bar with elegant and luxurious dresses, trousers and jackets.
3 is for bamboo, pique and thalasso, a trio of new fabrics we developed in 2015. Bamboo textile is natural, smooth and comfortable, while our cotton pique is a textured, knitted fabric made of 100% organic cotton. Our thalasso fabric ticks a lot of boxes: it's light, soft and doesn't absorb moisture. We'll be revealing more on uniforms in our new fabrics next year.
5 accounts for the number of trade shows Fashionizer attended this year, from the Hotel Show Dubai to Spa Life and Professional Beauty. Special mention must go to The Premiere Vision textile show which provided the inspiration for the gorgeous velvet and silk fabrics we are now using.
6 is for Six Senses Spas who have been keeping us on our toes with new openings in Portugal, Spain, Greece and Oman.
7 represents number of floors in the most glamorous government building we HAVE EVER SEEN. If you don't believe us, check out these pictures of the new ADAA offices in Abu Dhabi. True 5* style.
10 is dedicated to Miramar Crouesty, a hotel and spa on the beautiful coast of Brittany. We created 10 bespoke styles for them, including thalasso and beauty uniforms.
21 is the number of countries that we export to. In our business, we have come to expect the unexpected: we have provided uniforms for countries far and wide, from China and Hong Kong to Kazakhstan (no mankinis were supplied) and the Maldives.
34 times is the number of mentions that Fashionizer and Fashionizer Spa received in the trade press in the past year (plus check out a recent pic of one of our spa uniforms at the Gainsborough Spa in The Guardian).
48 is for 48°C. We know it's the warmest UK December since records began (or something), but it still feels quite chilly to us. That's probably because we spent a good part of the year in Dubai, and that meant negotiating temperatures reaching 48°C. What a scorcher. Even the cold water's hot.
50 is the number of reception and managerial staff at the Marlin apartments, for whom we have just created a selection of navy and white uniforms with a subtle and stylish nautical theme (check out the brass buttons with an anchor detail).
And… here's the Big One:
19,000 is the number of garments we produced. That's not one dress produced 19,000 times, it's 300 different styles and that's more than 50 garments for every single day of the year. The Fashionizer elves have earned their break…
Merry Christmas to you all. Thanks for reading and have a wonderful new year.
Comments: 0